This is the full version of an interview with Natalia Beylis from Woven Skull, conducted by email ahead of their Gateshead show in July.  I first saw Woven Skull at Supersonic Festival in 2015 and they were a highlight in a weekend full of them, leaving me stunned and mumbling to anyone who'd listen about 'if Godspeed were a folk band' (not an accurate description, as we'll see later). Since then, they've become regulars at all the right festivals, never failing to utterly captivate the audience, and released a barrage of essential releases through various sources. I must have seen them ten times in the intervening years and drunk with them a few times too. I kicked off the interview with Natalia by asking her to tell me a little about the band's origins. 
So firstly, can you tell me a bit about how Woven Skull came together. I know you and Willie met in the States, but how did a Ukrainian lass end up living in the middle of Ireland?
Soon after I was born my parents decided to hit the high road. We snaked through Europe, spent a few months living outside of Rome and eventually ended up in Baltimore which is where all of my memories begin. There must be a roamer's strand on my DNA because I could never fully stay put. I met Willie [Stewart, drum and percussion] when I was living in Pittsburgh and he was on tour with his old band Bambi. A few months later, I followed him back to his hometown of Dublin. As the officer at Dublin Airport Passport Control said to me the other day "Whatever possessed you to shack up with an Irishman?" I have no real answer. Maybe he dosed me with a spell? Eventually we moved into a big warehouse space in the city. It attracted all sorts of everyone. Aonghus [McEvoy, guitar] lived with his parents up the road and used to come over with two of his friends nearly every day. They didn't drink at the time and would just silently sit there on the couch. Sometimes they would play hackeysack. There's a lot that drew the three of us together musically. We were all always at punk gigs. We all like Crass. We all like Smegma. Once Aonghus left the dry life behind we all found we had a common love of partying as well. Eventually the guy who owned the warehouse realized Willie and I were living there and it wasn't just the artist studios we'd claimed it to be. We'd got so used to somewhere cheap with plenty of space that it was hard to adjust back to a cramped expensive city house. So we headed out to where there was no one to bother with all our noisemakings."
Was there a set idea of what the band was going to be or was it much more informal than that?
The beginnings of what morphed into Woven Skull were sparse, with me writing monophonic tunes on a little bowlback mandolin, leaving expanses of space for whatever would eventually come to fill itself in. My friend Ivan Pawle was the first one I tried playing these lines of music with: Ivan on hurdy-gurdy and Willie accentuating the most skeletal of all rhythms on a frame drum. Ivan was soon called away to dig up bones so we brought Aonghus into the fold and that's when the spaces began to swell. We were in no hurry to cement the sound of the band. We still aren't. I reckon it will keep morphing alongside us as we go. The only thing that remains constant is that there are us three at the core. Beyond that we're always getting stirred from playing and recording with a bunch of inspiring musicians.
There's quite a contrast between Woven Skull live and many of the releases. I believe the idea with Lair Of The Glowing Bantling was to capture something like the live incarnation (or as it was at that time) but there's a lot more field recordings, abstract collisions, concrète elements, soundscapes and things with the tapes. Can you tell me a little bit about that?
Since Willie and I live about two hours from Aonghus, we rarely have short band practices, preferring instead to get together over a few days. This gives us plenty of time to create sounds outside of those we set aside for our live gigs. We've played together for so long that I feel completely at ease trying any ideas out with Willie and Aonghus. Sometimes they look at me like I've grown arms out of my eyeballs but I never feel judged and without that rush of having a restricted time in a practice room, we can give any notion a try. Thankfully though, there's enough honesty between us to admit when it's going woefully wrong. When it's going right, we record it. Our practice room is awash in noise making possibilities: bundles of seashells, a pump organ, disintegrating kids toys. They get added in, and a lot of what we end up with is delicate and abstract or calls for the kind of listening atmosphere that we aren't trying to create with our live set. Live, I just wanna swaddle the space with everything we can push at it. The Bantling LP is the first one that we recorded with an engineer in a studio and it was an attempt to capture the songs and atmosphere of our stage performance. I think we nearly got there though it's still got a delicacy over our live sound. Our other recordings give more of an insight into the space in which our sounds are created, into the sounds that are going on around us while we're recording and into snippets of our writing process.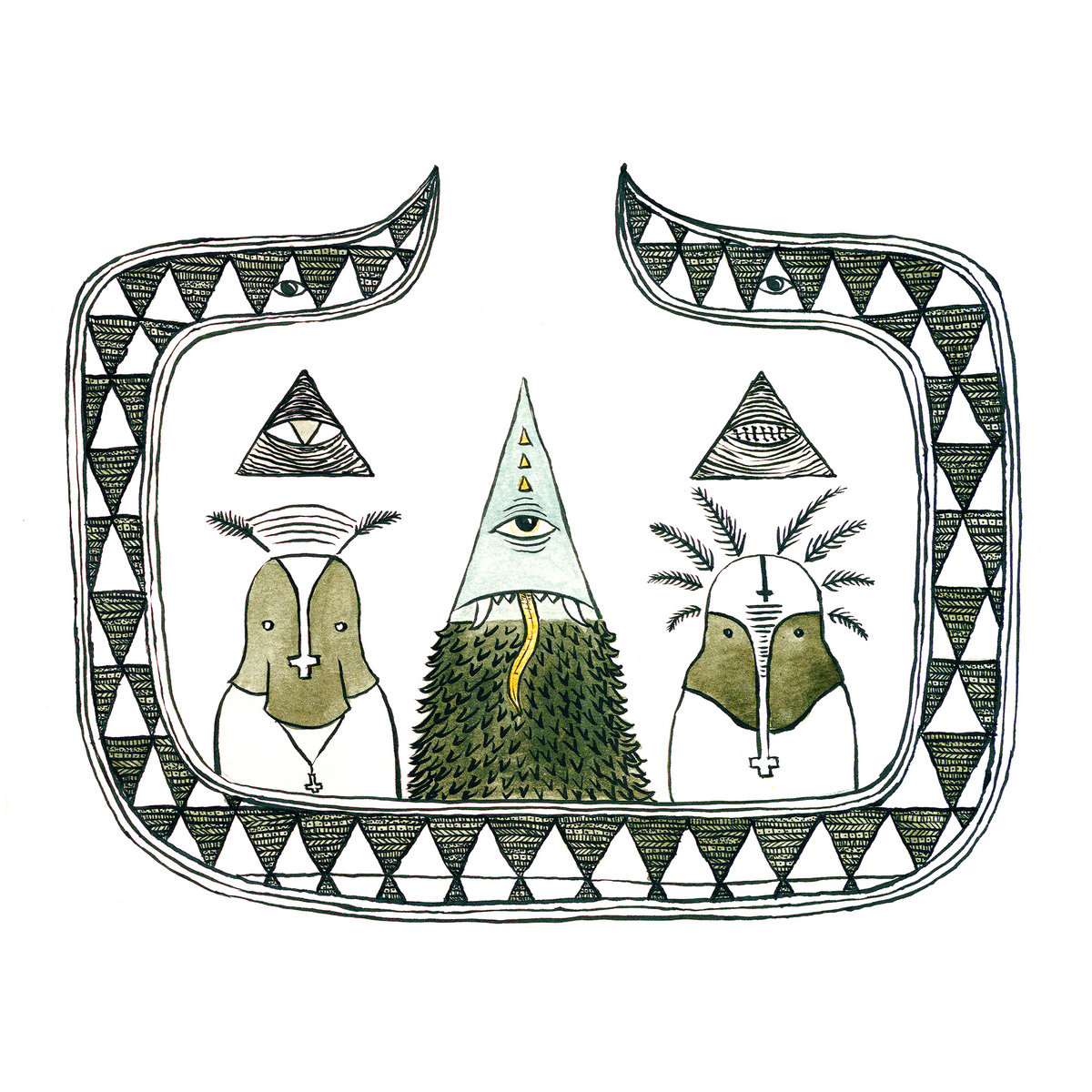 Thinking about the live band again, you've had various comparisons (including from me) of being like an acoustic / folk take on Velvet Underground or even Godspeed You! Black Emperor, that same sustained intensity. Do you think of the band as being at least partly rooted in folk, and what else comes into play in terms of the sound? You're all clearly immersed in a wealth of experimental and esoteric music.
For me two things come to mind when I hear the term 'folk music'; the first is the traditional music of a specific group of people from a specific place and the second is the music that's evolved from the Irish, US & UK folk traditions. We fit neither of those definitions. Someone did once describe us as creating self-imagined folk music. I kinda like that idea; that we've invented our own country and written the traditional music for it. But we are not a folk band and we are not rooted in folk. People who come to us with that expectation with inevitably be in for an unexpected surprise; pleasant or disappointing. We've never played acoustically live. Even though I play an acoustic mandola and various members join us on violas, violins and cellos, everyone is amped up, often running through pedals and FXs. There's a lot of pushing the limitations of what is conventionally done with the instruments and how loud and nasty acoustic instruments can go in a live setting.
Tell me a little bit about the scene / community at home – I know you're fairly near David Colohan [Raising Holy Sparks / United Bible Studies] for example, but I have this mental image of a busy scene of drunken improvising and collaboration?
Willie and I live in the least populated county in Ireland. It's generally very, very quiet and I often find myself communicating with the sounds of four legged & winged creatures more so than two legged ones. David is our closest musical pal living about 45 minutes away. The elusive Fuzzy Hell is about an hour away. In terms of musicians I collaborate with, those are the only ones around. There is however a fine group of general creative misfits (architects, poets, woodturners) that regularly come out to gigs at our house. Plus tons of visitors pass through. People are always up for getting out of the city to wreck some sound havoc for the weekend. That's often when the drunken improvisation kicks in.
There's a sense of the importance of place – and time – that comes through really strongly in your music both in Woven Skull and your own work [Natalia has recorded in various incarnations, often for her own Sofia label], of things being in the moment and the location being part of the experience. Can you tell me something about that?
I had a little black cat named Pussolini (Puss Puss) (RIP). He was always trying to get something across through his ceaseless meowing. It got to the point where I wouldn't really notice it in the present. But I'd be editing back through recordings and there'd be the Puss Puss meow: at the end of a Woven Skull track, in the midst of a field recording of the gurgling of the bathtub sink, providing vocal accompaniment to piano tracks. I like when the place sneaks itself into recordings. Audibly sterile environments make me antsy.
Whilst I know you're all a bunch of drunkards and tearaways, and I'm including David in this, there's nonetheless a vibe I get around you that I would hesitate to refer to in terms of spirituality or anything – I have no idea if any of you have any religious impulse, although Aonghus probably has a GG Allin shrine – but there is something that feels 'other' in some way. Maybe it's just coming across a group of people who are working towards something so creative and powerful, I dunno. I now realise it would have been better to ask this question over a bottle of rum at Supersonic than by email but fuck it. Do you have ANY sense of what I'm getting at?!
This question made me realise that I don't personally have a working definition of spirituality so I asked Willie how he would define it:
"Being able to put yourself in a atmosphere or headspace where you feel comfortable, confident and at ease. That could be falling into a trance while listening to music or walking through the woods."
Through his definition, I can safely say that David spends a lot of time in the woods and Willie spends a lot of time walking the boreens around our house. Maybe that's how they find this sense of ease?
I was at a Sufi gig recently and there was one Sufi fellow that was doing a particular dance, he was rocking back and forth and had one finger pointed up to the sky rhythmically ticking along to the beat. I realized it was, to a tee, the same dance a friend of mine used to do at punk gigs years back. There were two other Sufi lads grooving along in a way that were you to pull them out of the audience and drop them into the middle of a Sleep gig and they would have looked right at home. Would they have even noticed? It got me thinking of that film Rock My Religion by Dan Graham which intersplices footage of people dancing at 80s hardcore gigs with Shakers ecstatic trance dancing. Hmmm……where am I going with all this?… it's all the one I guess. Whatever gets you to that place of ease without imposing yourself upon others along the way.
But you know, No Gods No Masters at the end of the day.
I know you and Willie have a BIG thing for Moroccan / North African music: how did that come about, what is it about that music that grabs you and do you think it feeds into the band? 
Every time Willie and I visit Morocco there's just always live music everywhere: in the squares, floating above the rooftops, creeping down the alleyways. We both initially got into Moroccan music through listening to the Master Musicians of Joujouka and it's their sound that drew us to travel there. It's a different experience to listen to music in the place where it is written. When we got to Morocco we were inundated with Berber, Gnoua, Sufi & Chaabi music. Tapes are super cheap down there so it was easy to start coming home with recordings from all across Morocco and North Africa and slowly sorting through the sounds back at home. With Willie being a drummer I guess there's that draw for him to North and West African rhythms. But we're both into music from all over the lands. Eventually we'll start making our way down and across to other places too. [Willie has a fanzine looking at his love for Moroccan music available here]
We don't consciously feed anything into the music we write. But all the sounds I'm hearing must be mixing in their somewhere. That's just the way it works.
Back to a more mundane question: you're touring England in July, are you doing it all with $un $keletons or just Gateshead? And do you have a release / releases coming out to accompany it? If so, what?
We're doing four shows with $un $keletons: Gateshead, Middlesbrough, Todmorden plus we're doing an afternoon generator gig about 15 minutes south of Gateshead. It's in a very secret location. Can you guess where it is?! There will be more info closer to the time on all the usual channels.
Woven Skull have two releases coming out for this tour. A 10-inch on Lancashire & Somerset Records which is us playing with Jorge Boehringer and Eleanor Cully. It's noisy and free form and we let Willie use a full drum kit for it. We've also got a tape coming out on Cruel Nature (His Cattle Are Pets And He Goes With The Moon) which has a photo of me, my brother and my granny on the cover. It's a more delicate and possibly more formidable release.
The other new thing we'll have with us on this tour is a viola player named Ailbhe! This is very exciting. She's a shredder. Get ready.
And what next, after the tour? Any other releases or big plans we should know about?
We're at the final mixes of a new LP. So after tour we'll be looking for a label to take that on and we'll be planning some big tours around it's release. Also we've got a split 7 inch coming out on God Unknown Records this autumn. It's got Thor & Friends on the other side. Plus we're all always working away on material from solo stuff and our other bands and there's some of that stuff coming out soon.
Thanks, Natalia
Woven Skull play Gateshead Old Police House on July 21st alongside $un $keletons, Wreaths and Luna Del Cazador
https://wovenskull.bandcamp.com/